V-LINE SOL

V-LINE SOL. MAYPHARM
Promote lymph circulation, melting the excess fat of face and reduce being puffy, achieve the effect of skin regeneration.
Not only used for fatty face, it can also be used for sagging parts that caused by aging
Effectively reduce the look of protruding cheekbones, also improve double chin and square face.
Cell regeneration, Leaving skin smooth and elastic.
Fast result, excellent effect.
Only 5-10mins takes for simple and efficient treatment. Normally only single treatment is needed.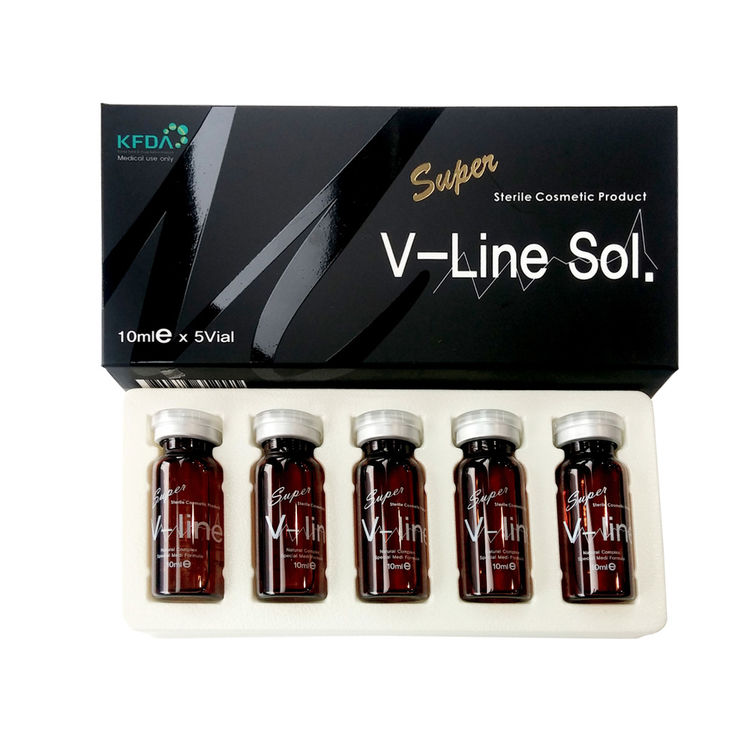 V-LINE SOL. MAYPHARM
Indications
Humerus narrowing
Contour change of loose cheeks
Reduce the looseness under the ear
Contour change of double chin
V-LINE SOL. MAYPHARM
Instruction
No mixture of solutions are needed, use directly.
Only 2ml is needed for one person(one face), 1 Vial(10ml) can be used for 5 people. 1 Box
(5 Vial) can be used for 25 people.
Injection depth: 5mm, 0.1 – 0.2 ml for eah inject point; inject dictance interval is about 1cm.
Normally the effects will be visible after 1 week of the first treatment course. According to different personal situation, the second treatment course may be needed , at least 3 days of interval time is needed between two treatment courses.
Specification
Ingredient:
Water, Aesculus Hippocastanum Extract, Tyrosine, L-Carnitine, Sodium Chloride, Juglans Regia (Walnut) Seed Extract, Thermus thermophiles
Packaging: 10ml x 5 Vial
Storage method:
May keep in room temperature for 3 years before open. After opened, seal securely and can be kept in refrigerator for 1 month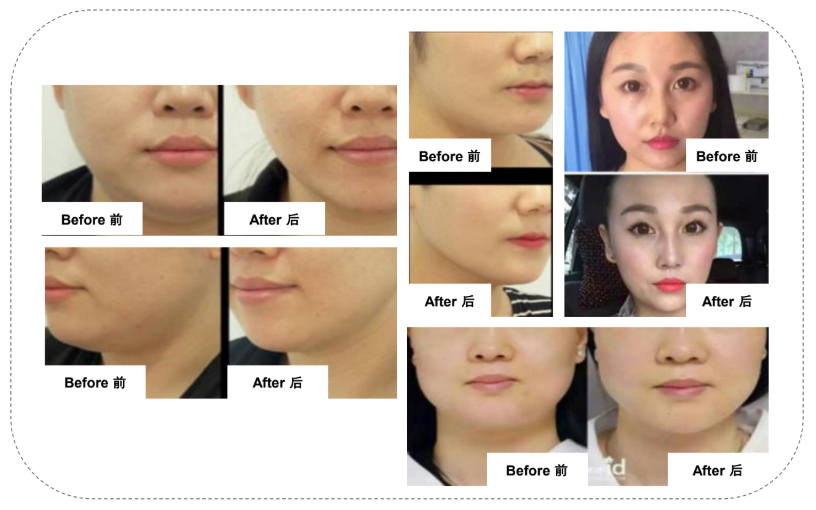 V-LINE SOL. MAYPHARM. BEFORE&AFTER
Postoperative precautions
Disinfect the incision area with alcohol disinfectant cotton immediately after the operation.
The effects will be visible after 2~3 days.
Do not remove make up or wash face for at least 3~4 hours after operation
Do not massage incision area on the day of operation.
Do not go to sauna in the following 2~3 days.
Alcohol consumption may affect the effect.
#cosmetics #healer #maypharm #korea #medicine #botulinumtoxin #filler #petit #beauty #beautysalon #vitamin #mineral #skincell #hyaluronicacid #protein #PDRN #mask #polynucleotide #polydesoxyribonucleotide #antiaging #revitalizer #skinregeneration #pigmentation #wrinkleimprovement #elasticity #skinelasticity #gloss #whitening #darkcircles #eyes #skinimprovement #cosmetology #hyaron #LIPOLAB #vlinesol #ppcsolution #slimpoint #rejuvenation