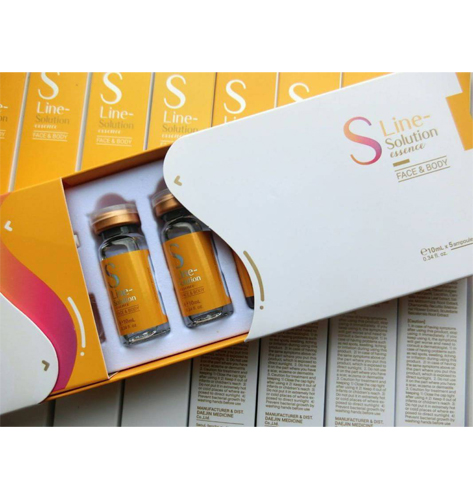 S LINE SOLUTION. MAYPHARM
S LINE SOLUTION directly attacks adipocytes in subcutaneous fat, breaks down and destroys them and deactivates lipase to prevent fat accumulation in the first place and melt them out. It contains 100% natural ingredients to enhance safety and stability and perfectly oversome the problems PPL, liposuction or steroids have.
Fat breaking down, burning off, melting down
NO agglutination or yo-yo effect
Cellulite removal
Lifting effect & enhance collagen production
Better lymph circulation & blood circulation swelling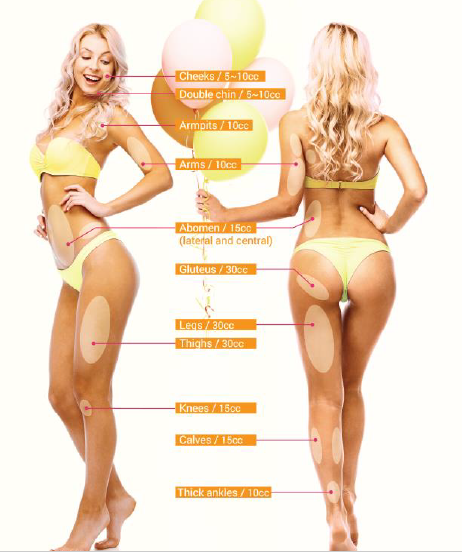 S LINE SOLUTION. MAYPHARM. Areas for use
Products created with biotechnology for the production and Optimization of natural extracts. Wheat germ produces beige fat and release macrophages to break down fats and prevent fat generation. Lecithin, natural emulsifier, induces self-destruction and limit fat accumulation. Centella Asiatica and Sodium Chloride promote better blood circulation, new blood vessel growth, regenerates skin cells, enhances penetrability of capillary, anti-cellulite mechanism. Methylsilanol mannuronate, organic natural ingredient, normalizes cell metabolism, regenerates cells, and helps reduce cellulite. Chamomilla recutita extract gives anti-inflammation, anti-bacterial effects: wound healing, skin regeneration, vitamin B complex, anti-oxidant effect. Scutellaria Baicalensis root extract, tyrasinase control, clean and clear skin tone, skin soothing and protection, anti-oxidant and ant-bacterial effects.
Wheat germ
Lecithin
Centella asiatica

Activates fat cell breakdown, releases free fat acids to the circulatory system
More fat cell apoptosis
More adipocytes derived inflammatory mediators, macrophages activation
Activates mitochondria biosynthesis Inhibits fat generation

Adipocytes apotosis and adipocytolysis
Breaks down fats and bad cholesterol
Promotes the metabolism with mitochondria function
Prevents fat generation, reduces the size of adipocytes
Removes cellulite

Promotes the breakdown of adipocytes
Accelerates the blood circulation and enhances the penetrability of capillary
Synthesizes collagen and improves skin elasticity and regeneration
Increases the expression of mitochondria related genes
Removes cellulite (anti cellulite)
S LINE SOLUTION EFFECT
FACE
BODY

[Make into a small and slim face]

cheek fat,
double chin,
square jaw and enhance
skin texture

[Make into a firm body]

arms, back, belly, waist,
thighs, calves and hips




[Make into smooth skin]
Solve your concern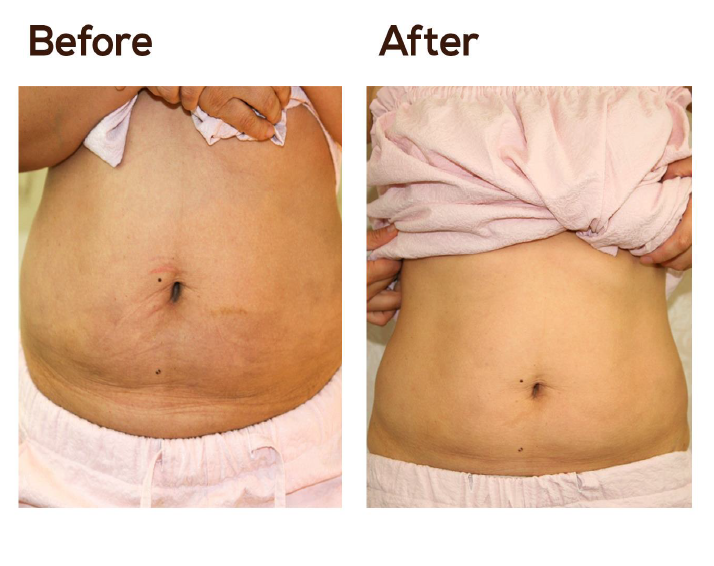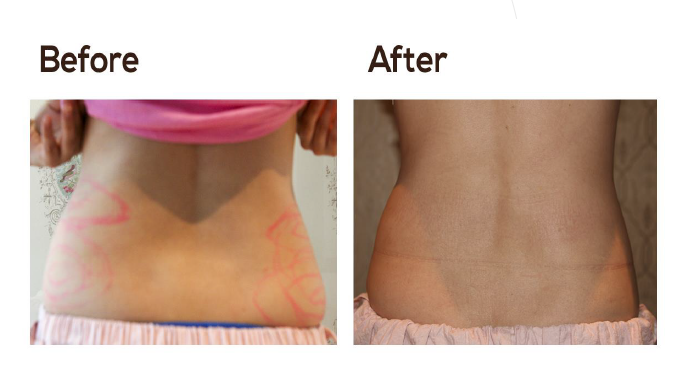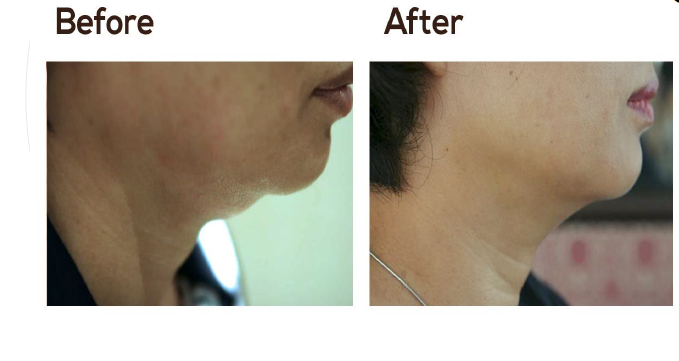 S LINE SOLUTION. MAYPHARM.
Before/ After
#cosmetics #healer #maypharm #korea #medicine #toxin #pdrn #lipolysis #skinny #weightloss #diet #filler #petit #beauty #beautysalon #vitamin #mineral #skincell #hyaluronicacid #protein #antiaging #revitalizer #skinregeneration #pigmentation #wrinkleimprovement #elasticity #skinelasticity #gloss #whitening