REN TOX. MAYPHARM.
RE N TOX appears as a lyophilized white powder for injection in a colorless transparent vial and should become colorless transparent liquid when the diluent (normal saline ) is added.
Temporary improvement of serious glabellar wrinkles ranging from moderate to severe associated with corrugators muscle and/or procerus muscle activities in adults aged between 18 and 65.
An effective does for facial muscles lives is determined by grossobservation of the patient's ability to active the superficial muscles injected. Each treatment lasts approximately 3-4 months.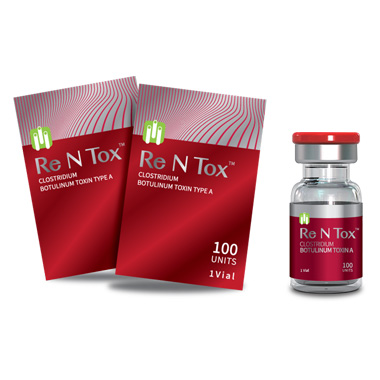 REN TOX. MAYPHARM.
#cosmetics #healer #maypharm #korea #medicine #filler #petit #beauty #beauty salon #vitamin #mineral #skincell #hyaluronicacid #protein #antiaging #revitalizer #skinregeneration #pigmentation #wrinkleimprovement #elasticity #skinelasticity #gloss #whitening #toxin