MIRACLE TOUCH
MIRACLE Touch series is a skin regeneration series that includes Touch Up – a PCL-based meso-solution, and Touch BR – a rich peptide and antioxidant meso-solution.
– MAIN ADVANTAGE of Touch Up is collagen rejuvenation with the help of solubilized PCL.
– Main advantage of Touch BR is skin whitening and anti-pigmentation.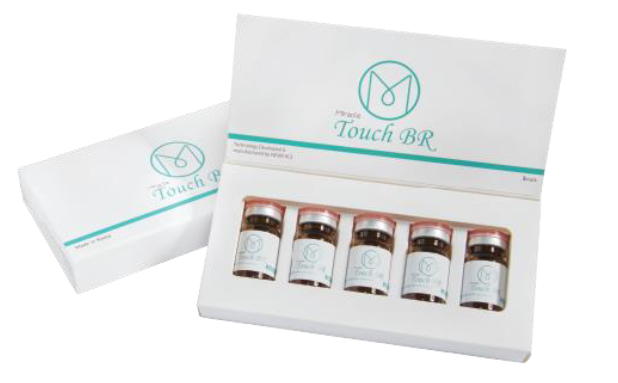 MIRACLE TOUCH BR. MAYPHARM.
TOUCH BR inhibits the synthesis of melanin pigment in the skin, therefore reduces skin pigmentation, age spots and freckles. It provides a whitening effect to the skin, makes it luminous and clear.
Biomimetic peptides, whitening boosting complex XT 80, Niacinamide and Vitamin C ingredients are used to maximize the efficacy of the formulation technology, demonstrating excellent whitening efficacy.
3 BIOMIMETIC PEPTIDES:
– Oligopeptide-50,
– Oligopeptide-34,
– Oligopeptide-51:
inhibit the melanin synthesis due to the tyrosinase synthesis
WHITENING BOOSTING COMPLEX XT80
34 Amino acids and vitamin complex. This formulation clinically designed to maximize whitening effect by inhibitory action of the tyrosinase and the capacity of reducing dopaquinone until DOPA.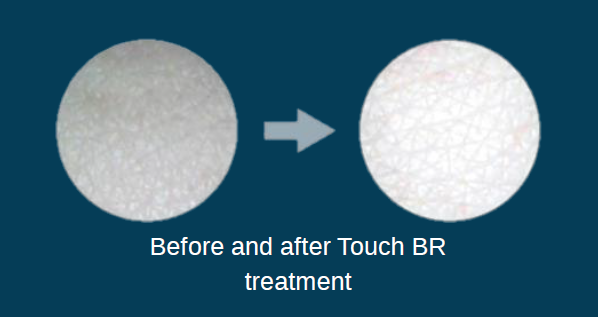 MIRACLE TOUCH BR. MAYPHARM. BEFORE & AFTER
NIACINAMIDE
is an excellent skin lightening agent that works by down-regulating transfer of melanosomes from the melanocytes to the keratinocytes.
VITAMIN C
vitamin C inhibits the enzyme tyrosinase. As a result, less melanin pigments are produced. Vitamin C also acts as an antioxidant. It fights free radicals that cause skin aging and darkening.
PROCEDURE

MIRACLE TOUCH BR. MAYPHARM. PROCEDURE
Inject Touch BR 5cc into dermis layer using MTS roller or general meso-treatment method.
*For better effect, using with Touch BR with Touch Up is recommended.

MIRACLE TOUCH BR. MAYPHARM. Recommended treatment scheme in case of combination Touch Up and Touch BR.
After 6th treatment, determine whether additional treatment is needed depending on the condition of a patient. Thus, the frequency and total number of injections may way.
#cosmetics #healer #maypharm #korea #medicine #filler #vitamin #beauty #beautysalon #mineral #skincell #hyaluronicacid #protein #antiaging #revitalizer #skinregeneration #pigmentation #wrinkleimprovement #elasticity #cosmetology #косметология #филлеры #корея #ботулоксин #ботулакс #antiaging #wrinkles #kosmetolog #биоревитализация