CURACEN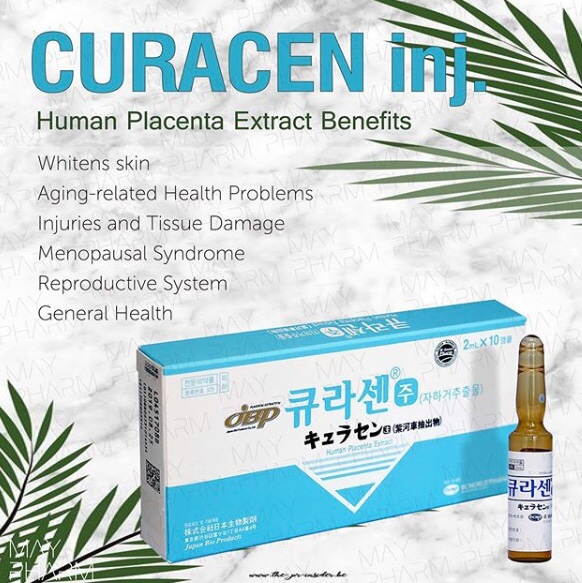 CURACEN. MAYPHARM.
Package details: 50 ampoules of 2 ml.
Maker: JBP Co Ltd, genuine product from Japan.
Active component: placenta extract.
Curacen from Japan is an innovative preparation for mesotherapy. It was created on the basis of the Laennec placenta injections, world-famous antiaging medicine. Curacen not only includes cell growth factors, molecules that help cells grow and regenerate. But also it contains a whole set of amino acids and vitamins, essential for effective cell tissue rejuvenation. Until not long before, getting Curacen was quite difficult and long process. However, now we offer you genuine Curacen from Japan.
Since Curacen was created on the basis of the human placenta, it has unique regenerative abilities. However, nowadays the placenta is sold in many shops. And, unfortunately, there are many absolutely useless medicines with no or almost no effect. So what is the secret of the efficiency of Curacen from Japan?
   PURIFICATION EFFECT AND MOLECULAR STRUCTURE 
The main reason, of course, is a high degree of purification of Japanese Curacen. A high degree of purification of active components makes cells much more susceptible to the effects of molecules of cell growth factors. Curacen is perceived by the body as something native, something close. For that, regeneration processes are launched at full strength. And it is not causing any problems with immune system.
The molecular structure of Curacen from Japan is also unique in its nature. Complex compounds and chemical connections provide a deep penetration into the deeper layers of the skin. Furthermore, it has a positive effect of growth factors. In its turn, those cause cell growth catalysts. And the cells are provided with building material and growth catalysts. Curacen penetrates deep into the skin, stimulates the growth of deep epidermis cells.
Placental medicine CURACEN is generally used as medicine for mesotherapy. CURACEN line is based on human placenta hydrolyzate. Japanese laboratory Japan Bio Products Co., Ltd. (JBP Co., Ltd.), a world leader in the study and production of placental preparations, is manufacturing Curacen.
You might have heard about famous Laennec medicine for intravenous and intramuscular administration. Its clinical efficacy in hepatology, immunology, dermatology, geriatrics, and in aesthetic medicine is proved by Japanese physicians for 55 years, it is certified medicine in Japan, USA, Korea, China, US and many other countries. Curacen is manufactured by the same maker, at the same plant, from the same material, but for the different purposes.
Innovative placenta purification technology ensures total safety of products based on it. Japanese placenta has proven the high bioavailability, compatibility with the human body, and efficiency. Pharmaceutical quality CURACEN ensured state control of production, strict selection of raw materials, quality, GMP-standard.
CURACEN COMPONENTS   
    – 11 cell growth factors:
EGF epidermal growth factor
 fibroblast growth factors FGF
 colony stimulating factors CSF
 insulin-like growth factor IGF
nerve growth factor NGF
transforming growth factor TGF beta
– Complex interleukins IL (IL1, IL2, IL3, IL4, IL5, IL6, IL8, IL10, IL12);
– 18 amino acids, including the essential;
– enzymes;
– Vitamins B1, B2, B6, B12, C, D, E;
– Over 40 minerals, zinc, sulfur, cobalt, phosphorus
The composition of CURACEN contains amino acids and low molecular weight peptides.
Of course, all components have biological affinity to human cells. That's why the formulations of this line have high regenerative ability.
 CURACEN EFFECT   
+ stimulating cell proliferation and activate their synthetic activity;
+ launching a process of transformation of fibrocytes into fibroblasts:
+ regulate body's own production of collagen and glycosaminoglycans;
+  enhance regeneration and improve microcirculation;
+ activate macrophage job protecting skin cells, normalize local immunity;
+ normalize the processes of melanogenesis;
+ enzymatic antioxidant protection of the skin;
+ regulate apoptosis;
+ reduce transdermal loss of water;
+ restores the epidermal barrier;
+ normalize tissue respiration.
  INDICATIONS PROCEDURES   
Prevention, treatment and correction of signs of chrono-and photoaging associated with delayed regeneration of cells with impaired structure of collagen-elastin skeleton, immunological problems (psoriasis, dermatitis, etc.).
– Preparation for plastic surgery and rehabilitation after plastic surgery.
– Rehabilitation after chemical peels, dermabrasion, laser resurfacing.
– Correction of hyperpigmentation, acne blemishes.
– Prevention and treatment of problems tricology – alopecia metabolic or neurogenic origin.
You can order denuine curacen online with worldvide delivery from Japan. Please pay attention that Curacen is manufactured in Korea (Laennec and Melsmon are manufactured in Japan only). You can pay by bank and get 100 usd discount or you can pay online by card with 100% protection. We shall provide trackable shipment to your home address worldwide. Tiy may also be interested in the following arctices related to Curacen and Anti aging methods
#cosmetics #healer #maypharm #korea #medicine #filler #vitamin #beauty #beautysalon #mineral #skincell #hyaluronicacid #protein #antiaging #revitalizer #skinregeneration #pigmentation #wrinkleimprovement #elasticity #cosmetology #косметология #филлеры #корея #ботулоксин #ботулакс #antiaging #wrinkles #kosmetolog #биоревитализация    #curacen #mesotherapy