CELOSOME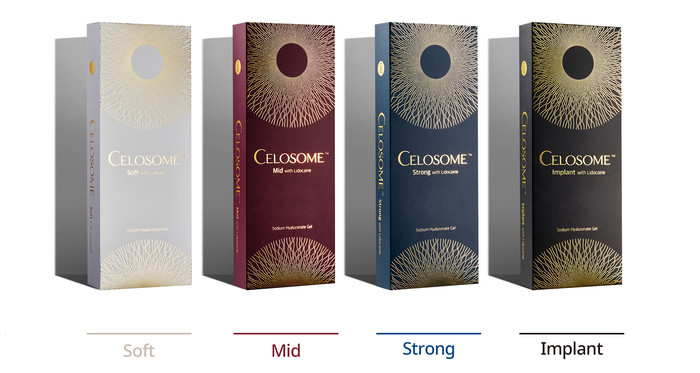 CELOSOME. MAYPHARM.
Celosome Series is a series of Hyaluronic Acid Fillers, which is made to cater to various skin depressions. Each type of Celosome is made to ensure that the treatment for folds and wrinkles is well dealt with. 
Celosome contains lidocaine to make sure that the procedure will be as painless as possible. Another great thing about this filler is that it comes from a non-animal origin, making it odorless and colorless.
Filler CELOSOME Soft With Lidocaine 1.1ml is a filler of 100% cross-linked hyaluronic acid of non-animal origin containing 0.3% lidocaine for treatment of wrinkles and folds. 8-phase ultra-functional technology of ExoCabio. Multi-way membrane for complete removal of BDDE, metal ions and foreign substances. De-ionized facilities and ultra-pure water system to minimize impurities and endotoxins. HENM cross-linking technology for a longer duration, optimized viscoelasticity to maintain elasticity in your skin.
BENEFITS
EXCELLENT VOLUME:
Celosome is deeply hydrophilic, allowing the filler to absorb moisture, which keeps the structure & volume of your filler remarkable.
HIGH VISCOSITY 
Celosome is formulated to make sure that you can use the fillers with ease by improving its viscosity so it can hold its shape for a long time.
LONG-LASTING
Celosome Series went through various clinical trials to guarantee your safety in using the filler.
#cosmetics #healer #maypharm #korea #medicine #filler #vitamin #beauty #beautysalon #mineral #skincell #hyaluronicacid #protein #antiaging #revitalizer #skinregeneration #pigmentation #wrinkleimprovement #elasticity #cosmetology #косметология #филлеры #корея #ботулоксин #ботулакс #antiaging #wrinkles #kosmetolog #биоревитализация  #celosome